JOIN MY COOKBOOK LAUNCH TEAM
Can I share something uber vulnerable with you? I'm scared out of my mind and filled with insecurities as the day comes where this book that I have opened my heart up to goes to bookshelves across the country. Now yes, I believe God has a divine purpose and knows the days ahead, and has already ordained special hands and hearts for this book. But, I also believe in the power of prayer, encouragement, and friendship. As I approach this day, I am looking for dedicated friends to join a tribe of prayer over this book and the people that will hold it in their hands. Will you join me?
WHAT IS A LAUNCH TEAM?
A launch team is simple. It's a group of people that will be intentional about praying over The Living Table, the stores that will carry it, the people that will see it, and the hearts that it will impact.
Now, there are some tactical components to a Launch Team because essentially you are helping me spread the word about The Living Table. However, the most important thing is that I have a tribe of people wanting to pray over God's powerful plan and sovereign hand over the next few months.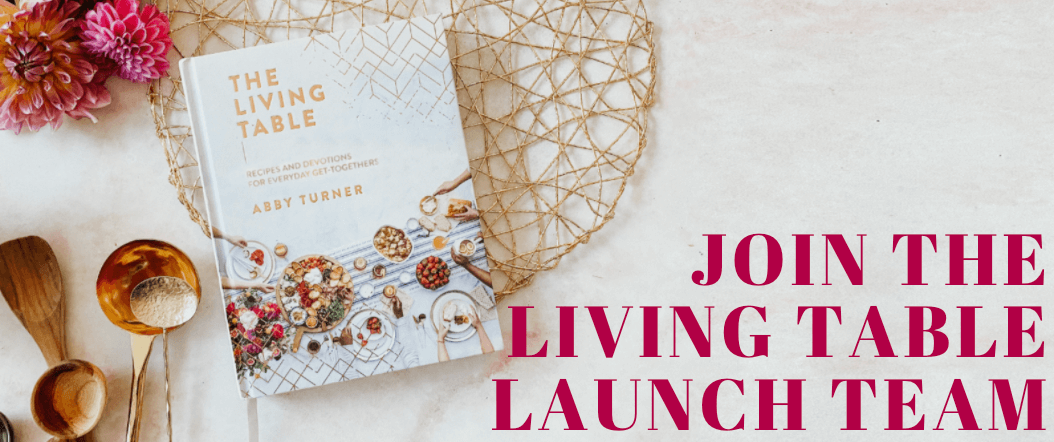 WHAT DO I NEED TO DO?
PRAY about the people that will hold this book in their hands, buy it for someone else as a gift, and that no matter who opens it that God would help them connect with others around the table.
SHARE about the book on your social media channels (Facebook, Twitter, Instagram, TikTok) or with your small group, book club, or organization.
JOIN the Launch Team Facebook Page and FOLLOW A Table Top Affair on IG, FB, and PIN.
REVIEW the book on Amazon and Goodreads (it's easy, fun and we'll guide you through it).
TELL EVERYONE you know about the book as many times as you can.
WHAT DO I GET OUT OF IT?
We are so excited that you want to join our Launch Team to help pray over and promote The Living Table. Everyone that commits to posting and praying and successfully promotes TLT for the 4 weeks leading up to the book launch - tentatively set for April 13 - will receive...
- A branded charcuterie board
- 50% discount for one of the 4 60-minute cooking masterclasses offered in April and May 2021
- Invitation to 1 of 3 Launch parties in Little Rock, Bentonville, or Dallas